I went on a bit of a baking spree this past Saturday. My sister needed some sort of baked good for an event and I, of course, volunteered. We had two incredibly over-ripe bananas, so I figured I would try a recipe I found for these bars. I wouldn't really call them blondies but I also wouldn't call them cookie bars...so I'm not too sure what they are, other than amazingly easy and delicious.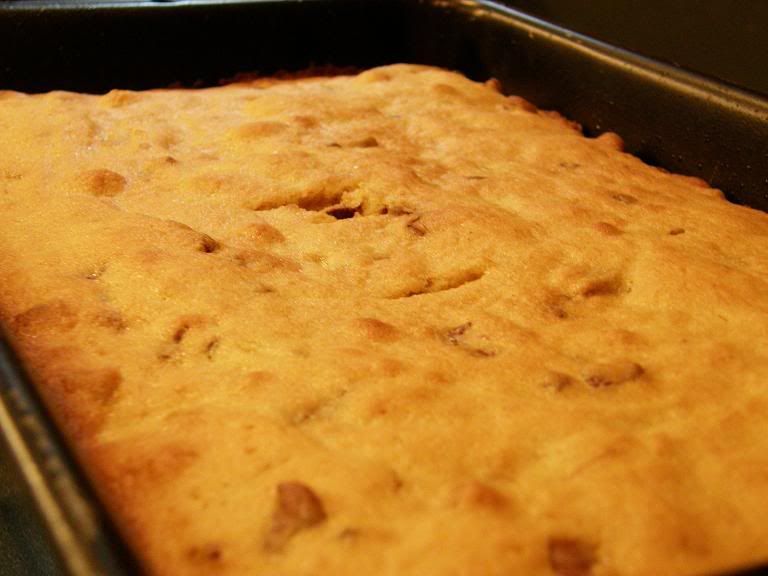 2 eggs, beaten until frothy

3/4 c sugar

1 c flour

1/2 c butter or margarine, softened

1 over ripe banana
1/2 c peanut butter

1c chocolate chips

I sort of added the ingredients in whatever order I seemed fit and combined until smooth. You can bake them in a greased 8x8, 9x9, or 7.5x12 pan at 370 degrees Fahrenheit for about 30 minutes. The original recipe suggests turning once halfway through baking, so I did and everything was evenly baked. I baked mine for about 25 minutes because they batter was much thinner when spread in a 7.5x12 pan rather than a 9x9 pan. To test for doneness [yes, I'm aware that isn't a real word but I'll use it anyway] insert a knife into the middle and if it comes out clean, they're done!
These bars are absolutely delicious and not too sweet, which is a nice change of pace for my family. And, surprisingly, my sister has already requested more. She's the picky eater of the family and I really did not expect HER to enjoy these. Now we're just waiting for our latest batch of bananas to ripen enough for more of these bars!


Now, I did say Saturday was a baking spree and these bars themselves don't quite constitute the use of that word. While the bars were amazing, they didn't make a large amount so I had to bake something else...which I will post about later :-]