If you know me, it is likely you know how much I love cheese. I love to have my pizza piled high with extra cheese and any sort of grilled sandwich with ooey-gooey cheese on it is a winner in my book. There are times I have to control myself at the grocery store and resist the temptation to buy a bag of cubed cheese. So, as you could guess from all of this, I loooove macaroni and cheese. Unfortunately, that usually doesn't fit in with the whole idea of "healthy eating", which is what I've made an effort to do this summer.
As I was browsing our latest issue of

Cooking Light

, my eyes fell upon a recipe for three cheese mac and cheese. Oh my gosh. Words cannot effectively explain my excitement. Not only would this be a healthier version of one of my favorite foods, but I had been itching to make so
me mac and cheese [

not

from a box] all summer. My sister was the test subject for the recipe and she loved it! Jenna can be a little picky about her food, so I wasn't sure how she'd feel about a macaroni and cheese with
onion and "fancy" cheese. Considering that she ate about a third of it in one sitting, I think it's safe to say it was a hit with her. My dad finished off the leftovers the following night and approved of the recipe as well.



Three Cheese Macaroni and Cheese




from Cooking Light magazine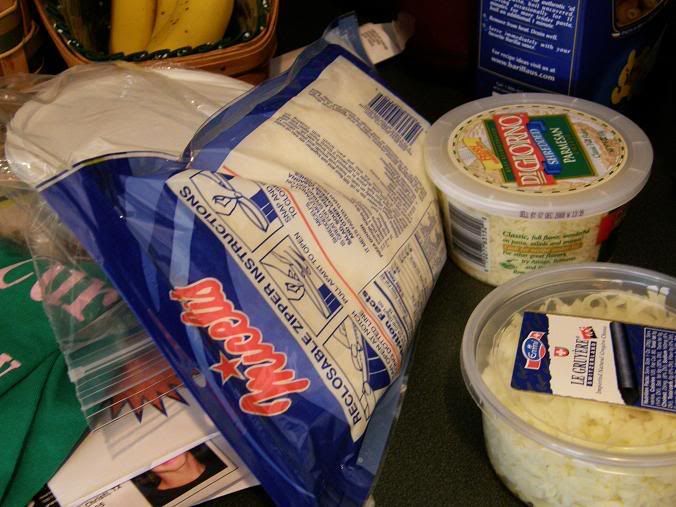 1 teaspoon olive oil
1 cup finely chopped onion [about 1 medium onion]
2 tablespoons flour
1 garlic clove, minced
1 1/2 cups low-fat 1% milk
1 bay leaf
1/2 cup [2 ounces] Gruyere cheese [the original recipe calls for
Gorgonzola but I wasn't feeling that]
3/4 cup [3 ounces] grated Parmigiano-Reggiano cheese, divided
1/4 teaspoon salt
2 cups uncooked elbow macaroni [I used a different tube pasta]
cooking spray
2/3 cup [about 2.5 ounces] shredded part-skim mozzarella cheese
2/3 cup panko [Japanese breadcrumbs]
freshly ground black pepper

Heat oil in a medium saucepan over medium heat. Add onion to pan; cook 8 minutes or until tender, stirring occasionally. Add flour and garlic; cook 1 minute, stirring constantly. Stir in milk and bay leaf; bring to a boil. Cook 2 minutes or until thick, stirring constantly with a whisk. Add Gruyere, 1/2 cup Parmigiano-Reggiano, and salt; stir until cheeses melt. Discard bay leaf.
Preheat oven to 375°.
Cook pasta in boiling water 5 minutes or until almost tender; drain well. Add pasta to cheese mixture, stirring well. Place about 1/2 of pasta mixture into an 8-inch baking dish coated with cooking spray. Sprinkle evenly with mozzarella. Top evenly with remaining pasta mixture. Combine remaining 1/4 cup Parmigiano-Reggiano and panko; sprinkle evenly over pasta mixture. Spray lightly with cooking spray; sprinkle with black pepper. Bake at 375° for 35 minutes or until heated.