My boyfriend loves to eat. And when Bryce really loves something, he can eat ungodly amounts of it. I have seen this boy put away an entire pizza by himself, no problem. One of his favorite places to go out for dinner is Quaker Steak and Lube

but

only on a Tuesday night when he can gorge himself on all you can eat wings. Oh, and he's a 6 foot 5 [though he'll insist he's 6 foot 4 because, well, that's how tall Superman is] gangly boy and weighs about as much as I do. I don't think I need to say this, but I will anyway -- I'm jealous.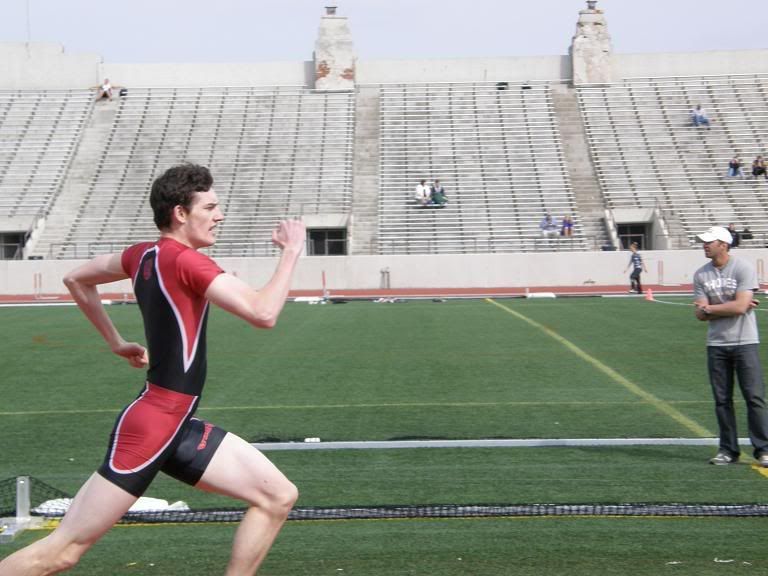 He's going to kill me for posting that, haha. I'd have to starve myself to be anywhere near that thin. Damn metabolism... Anyway, as I was saying, Bryce tends to eat disgustingly huge quantities of food when he really loves something. These brownies are one of those dear loves of his. I promise you that this boy could finish off the entire tray of brownies in two or three days. Unfortunately for him, my dad would fight him for these brownies.



Bryce's Favorite Double Chocolate Brownies


found at recipezaar.com
2/3 cup butter
1 1/2 cups sugar
1/4 cup water
4 cups semi-sweet chocolate chips, divided [honestly, I use 2 cups plus whatever I feel like adding]
2 teaspoons vanilla
4 eggs
1 1/2 cups flour
1/2 teaspoon baking soda
1/2 teaspoon salt

Preheat your oven to 325 degrees Fahrenheit and grease a 13x9 inch baking pan.
In a heavy saucepan, bring butter, sugar, and water to a boil, stirring constantly until butt
er is
melted and sugar is completely dissolved [this should take about 3 or 4 minutes]. Remove from the heat and stir in 2 cups of the chocolate chips, with a wooden spoon, until melted completely. Cool slightly and then beat in the vanilla. I used my amazing vanilla bean paste, but vanilla extract works just as well.


In a mixing bowl, whisk the eggs. Once the chocolate mixture has cooled, gradually add the mixture to the eggs, beating with a wooden spoon until completely mixed.
Mix together flour, baking soda, and salt. Add to the egg/chocolate mixture and mix well to combine. Stir in the remaining chocolate chips. I like to use the itty-bitty mini chocolate chips, but regular ones or chocolate chunks would work, as well.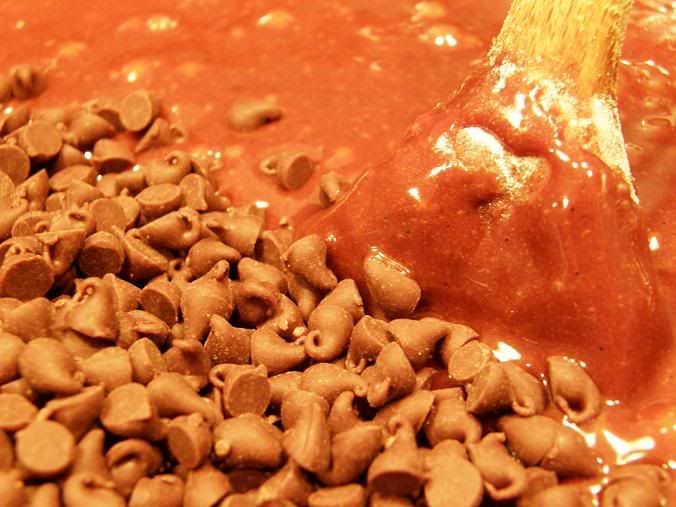 Spread your batter into the prepared baking pan and bake for 35 to 40 minutes. DO NOT OVERBAKE! I usually go by eye on this, but you could do the little toothpick test for good measure. Let the brownies cool on a rack [in the pan, of course] and then cut into squares and promptly devour.

Now this time around, I used some of my new bakeware that I purchased at some kitchen outlets in Pennsylvania. I also used my mini cupcake tins and make, well, mini cupcake brownie things.


While it was fun to use my new pans and the cupcake-shaped-brownies were cute, everyone preferred the brownies baked in the 9x13 pan. When baked in the pan, the brownies are so much more dense and chewy which is how I prefer my brownies. Bryce agreed and also prefers the bar brownies because he can help himself to larger pieces of the dessert. Typical. Well I'm sure he'll be glad to know that I plan on making another batch of these decadent brownies before I head down to meet up with his family before we all leave for vacation.