Again, I've gotten a little behind in my posting and I apologize to the whopping two readers I may have. This summer has proved to be quite hectic between working two jobs and taking care of a new kitten. But, of course, I have still managed to find plenty of time to bake! As I mentioned before, I picked up a new cupcake cookbook at Barnes and Noble titled

100 Best Cupcake Recipes

. The book is full of delicious looking recipes and I was having a difficult time decidin
g which I would try first until a higher power [or my parents] intervened. I spotted a brand new package of Oreo cookies on our kitchen counter and knew, right away, that I

had

to make some cookies and cream cupcakes! Again, I went ahead and made mini ones so my mom could enjoy without overindulging and reversing all of her healthy eating. I guess it's partially for myself as well because all of this baking and a lack of physical activity hasn't been very kind to my waistline.
Cookies & Cream Cupcakes
2 1/4 cups + 4 tablespoons cake flour [

eliminate the tablespoons if using AP flour

]
1 tablespoon baking powder
1/2 teaspoon salt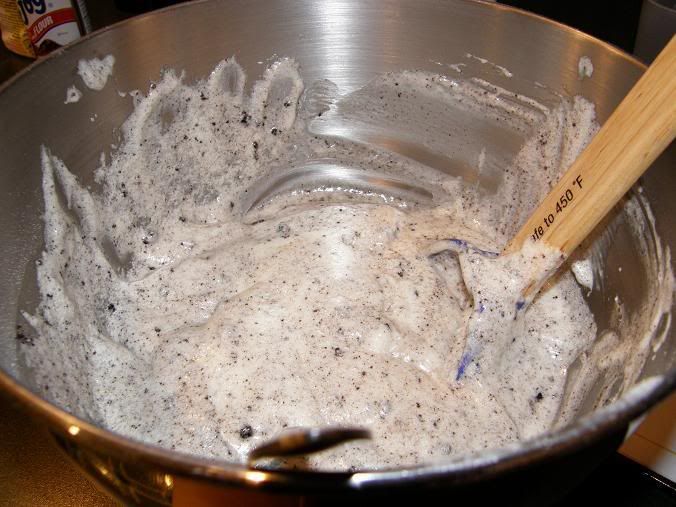 1 2/3 cups sugar
1 cup milk
1/2 cup [1 stick] butter, softened
2 teaspoons vanilla
3 egg whites
1 cup crushed Oreos [about 10 cookies]

Preheat oven to 350 degrees Fahrenheit. Lightly grease your muffin cups or line with paper baking cups.
Sift flour, baking powder and salt into a large bowl; stir in sugar. Add
milk, butter and vanilla; beat with electric mixer at low speed for 30 seconds. Bead at medium speed for 2 more minutes. Add egg whites and beat for 2 minutes. Stir in 1 cup of crushed cookies and then spoon batter into prepared muffin cups, filling 2/3 full.
Bake 20 to 25 minutes or until toothpick inserted into centers comes out clean. Cool cupcakes
in pans on a wire rack for 10 minutes and then remove from pans. Cool completely on wire racks.

I foolishly overfilled some of my muffin cups and these resulted in some very flat-topped cupcakes. Thankfully, I didn't do this for all of them so some of the cupcakes did form perfect muffin tops. Also, the baking time differs when making the mini cupcakes. All of my times varied due to trial and error, but I would suggest baking them for 6 minutes and keeping on eye on them from there. I do believe 8 minutes worked well but better to check sooner rather than later.

As for the frosting, I don't really have much of a recipe. I decided to wing it and threw a stick of butter into a bowl, beat it until it was light and fluffy, and then started adding powdered sugar. I kept adding the sugar until it reached a good piping consistency and then i stirred in extra cookie
crumbs. The frosting was a bit sweeter than what I usually prefer, but I reminded me of the frosting I had on my cookies and cream cupcake back at Pink Moon Cupcake Bakery. I ended up needing another half-batch of the frosting to finish up my cupcakes and that batch turned out a little s
weeter than the previous.


All in all, I thought the cupcakes were great. They were very light with a very mild...well, Oreo flavor, I guess. The frosting added a nice sweetness to the cupcakes without being too sweet. I really doubted the family and coworkers would finish off this batch, which yielded way more cupcakes than I expected, but the sweets are nearly gone! I'm sure this is due to my sister sneaking

at least

2 a day, but that's okay.

I do have another batch of baking to post, but I'll be leaving tomorrow morning
to go stay with my boyfriend for a few days. I'll do my best to post them as soon as possible!