I'm a big fan of good breakfast food, but I'm not talking cereal and toast. Give me pancakes, bacon, fruit & yogurt, hashbrowns, omelets - any of those make for a very happy breakfast but, unfortunately, aren't suited for a quick breakfast. When I need something quick, filling, and satisfying I go for bagels. I struggle to resist a fresh toasted bagel at work every morning and the temptation of stopping at Tim Horton's for a bagel is always there. That's what drove me toward my first Spring Break culinary undertaking - homemade bagels.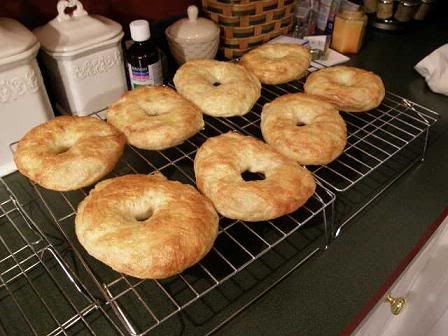 My mom was incredibly skeptical and my dad laughed at me [as usual], but I felt like they had every right to react in those ways. I'm not very experienced when it comes to working with yeast and who decides to make bagels at home? Well let me say this - I showed them! I'm definitely impressed with my finished product. Sure, they weren't as fluffy as your typical bagel, but they were delicious and had a great texture & flavor! While a bit time consuming, they weren't really that difficult to make either and I will definitely do it again. Mom and Dad enjoyed them simply toasted with butter and jelly [it always has to be Knott's at our house - my dad is a serious addict] but I used mine to make a delicious fried egg sandwich with a little cheese.
1 tbsp active dry yeast
1 tbsp sugar
1 3/4 cups water, warm (100-110F)
4-5 cups bread flour (not all purpose)
1 tbsp salt
1 egg, for egg wash
Optional Seasonings:
Poppy Seeds
Onion Powder
Caraway
Sesame Seeds
Kosher Salt
In a large bowl [or the bowl of a stand mixer, which I prefer] combine yeast, sugar and water. Let stand for 5 minutes, then stir in the flour and salt. Mix dough thoroughly until it comes together in a large ball, pulling away from the sides of the bowl. Add an additional tablespoon of flour or water, if needed. I think I should have added a little more flour at this point but I was afraid of adding too much, which made my dough sticky.
If kneading by hand, turn dough out onto a lightly floured surface and knead until very smooth and elastic, about 10 minutes. If using a stand mixer [like I did], knead the dough with the dough hook until elastic, about 8 minutes on a low speed. Place dough in a lightly greased bowl, cover with plastic wrap and let rise for 1 hour, or until doubled in size.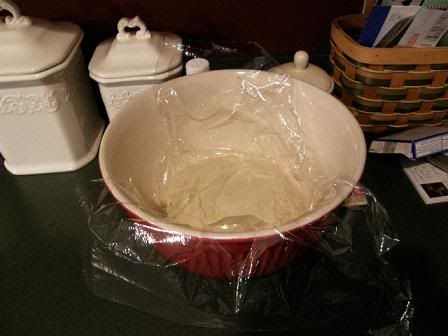 When dough has risen, turn the dough out onto a very lightly floured surface and divide into 8 equal pieces (first quarters, then halves). Shape each piece into a tight ball, pinching the corners together at the bottom of the dough. When all the balls are shaped, let the dough rest for 30 minutes covered with a clean dish towel.
Once dough balls have rested, use your fingers to poke a hole through the center of each dough ball. Stretch out the dough into a ring with your fingers and be sure to make the hole a little larger than you want the finished bagel to have, as it will shrink slightly while the bagel is expanding during the baking process. Let bagels rest for about 10 minutes.
Meanwhile, bring a large pot of water to a gentle boil and preheat the oven to 400F. I used a deep dish skillet because it's wider and the bagels need quite a bit of space. Line a baking sheet with paper towels and another baking sheet with parchment paper sprinkled with cornmeal (if you have it - I didn't and everything worked out fine without).
Working two to four bagels at a time (depending on what you can fit into your pot or skillet), drop the bagels carefully into the boiling water. Boil for 2 minutes on each side. Using a slotted spoon or strainer, transfer bagels to the paper towels to drain for a moment, then place on the parchment-lined baking sheet. Repeat process with remaining bagels.

Brush boiled bagels with lightly beaten egg (a pastry brush is a good tool for this) and sprinkle with seasonings. Bake for 24 minutes, or until golden brown. Cool completely on a wire rack. Slice and toast to serve.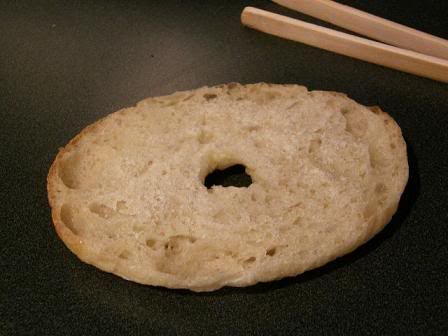 I have some more updates coming soon, I promise. I'm in my last 7 weeks or so of college, so I don't have a lot of spare time for blogging. When I do get the time, expect to see bread, cupcakes, and soup!