Yes, I am still alive and baking.

Sadly, school has started and my senior of college has not been kind so far.

My days are jam-packed between classes, interning at an elementary school, and working two part-time jobs.

I still find time to bake, using my friend Amy's kitchen and my boyfriend's kitchen, but I'm not quite finding the time to post.

Honestly, I shouldn't be posting this right now.

I have to read a book for class tomorrow and haven't quite opened it…

Oh well, I survived my first At

ypical Child Psychology exam [yikes!] and am rewarding myself with the revival of my blog!

I'm an avid reader of the blog Cathlin Cooks and I especially love how she usually tries to put a healthy twist on all of her cooking and baking. I'm always up for trying something new and when I saw these granola bars, I knew that would be my new recipe to tackle. The only problem was…I don't own a kitchen scale. I know, right? How dare I?! Well, Cathlin was kind enough to make these bars again and measure out the weighed ingredients, providing me with a recipe I could handle. Thank you so much, Cathlin! I really appreciated it and these granola bars were delicious!

Granola Bars
from Cathlin Cooks


2 1/3 cups rolled oats
1/3 cup flour
½ cup vegetable oil
¾ cup honey
¼ cup brown sugar
2-3 tablespoons peanut butter
1 cup shredded, unsweetened coconut
1 1/3 cups assorted nuts and seeds
1 1/3 cups assorted dried fruit, cut up to the size of sunflower seeds




Preheat oven to 325 degrees Fahrenheit and line a baking pan with parchment paper.
Roughly chop nuts and fruit into pieces about the size of a sunflower seed. Place in a bowl with oats, coconut, and flour, and stir together until combined.
Slightly heat honey in a pot on the stove, then add sugar, peanut butter, and oil, and whisk together thoroughly. Pour wet into a well in the dry mixture and combine. If it doesn't stick together well add more honey.
Dump into the prepared pan. Wet hands with cold water and using a spoon and hands, pack mixture flat into the pan.
Bake for 25 to 35 minutes. During baking, use spoon or spatula to press down mixture every 10 or 15 minutes. Allow to cool for 15 to 20 minutes after baking and then remove from pan. Using a sharp knife, cut into bars and store in an airtight container for up to two weeks.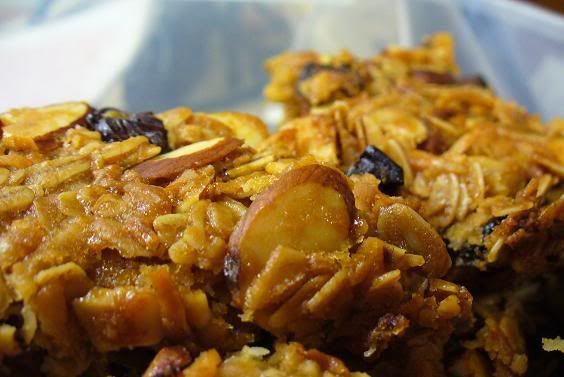 For my bars, I used some toasted, sliced almonds and dried apricots, peaches,
and cherries.

Yum!

The flavors work together so well and the bars were just the right texture for me, nice and chewy!

It's also nice to have a simple, easy to make recipe when I'm relying on a very ill-equipped kitchen.

Now, don't get me wrong…I very much appreciate having Bryce's kitchen at my disposal.

It's just hard to use a pot as a mixing bowl and a metal serving spoon as my mixer when I have been spoiled with a Kitchen Aid mixer and an assortment of tools.

Anyway, I definitely recommend this recipe and I will hopefully make it in the near future!