As I stated in an earlier entry, I love summer fruit. And while blackberries and cherries are great, peaches are my absolute favorite. During high school, some of my best summer days were spent with a good friend of mine on her family's fruit farm. We'd spend hours outside picking blueberries and raspberries, only to come inside and dive into a pile of ripe, sweet peaches. The Schmitkon's family farm grows, hands down, THE BEST peaches I have ever tasted in my life. The peaches are always incredibly sweet, juicy, and, at times, GIGANTIC! This summer, I had originally planned to make a pie with my box of peaches. Unfortunately, I wasn't able to pick up the peaches until the end of my summer and didn't have the time to make a pie. Instead I opted to make my go-to vanilla cupcakes with a little summer twist -- fresh peaches tossed into the batter!



Vanilla Peach Cupcakes
adapted from Billy's Vanilla Vanilla cupcake recipe
1 3/4 cups cake flour [NOT the self-rising type]
1 1/4 cups all-purpose flour
2 cups sugar
1 tablespoon baking powder
3/4 teaspoon salt
1 cup [2 sticks] unsalted butter, cut into 1-inch cubes
4 large eggs
1 cup whole milk [I used 2%]
1 teaspoon pure vanilla extract [or vanilla bean paste!]
2 medium peaches, skin removed, finely chopped

Preheat oven to 325 degrees Fahrenheit and line cupcake pans with paper liners; set aside. In the bowl of an electric mixer fitted with the paddle attachment, combine flours, sugar, baking powder, and salt; mix on low speed until combined. Add butter, mixing until

just

coated with flour.
In a large measuring cup, whisk together eggs, milk, and vanilla. With mixer on medium speed, add wet ingredients in 3 parts, scraping down sides of bowl before each addition. Beat until ingredients are incorporated but do not overbeat. Gently fold in peaches.
Divide batter evenly among liners, filling about two-thirds full. Bake, rotating pan halfway through, until a toothpick inserted in the center comes out clean (about 17 to 20 minutes). Transfer to a wire rack to cool completely.
For the frosting, I turned to my favorite frosting which came from a red velvet recipe. I added orange Wilton gel dye to make the frosting a fun, summery color to compliment my summery cupcakes! Some flower-shaped sprinkles added a nice finishing touch.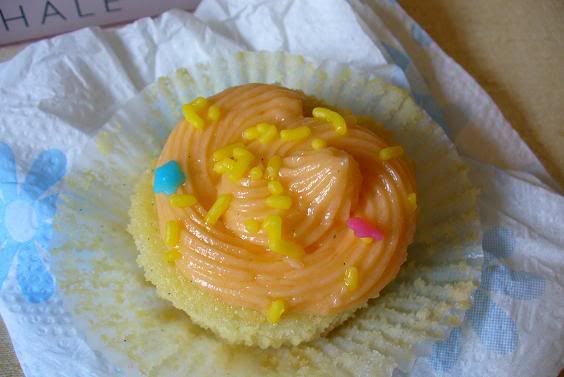 I brought most of the cupcakes down to OWU with me and shared with my friends. These treats received rave reviews from everyone, especially those at the cookout I stopped by on my second night back.