When my mom told me about this recipe, I thought it would be love at first bite. I'm a cookie dough fanatic and dipping cookie dough in chocolate? Divine! Weeellll...they're okay. They're soft and sweet, but, believe it or not, a little too sweet for me. Now don't get me wrong - I've eaten my fair share of the truffles but I'd rather spend my calories on other cookies. Also, these require a lot of work. I'll stick with kifli if I want a labor intensive cookie.
from the kitchen of Paula Deen
3/4 cup firmly packed brown sugar
1 14-ounce can sweetened condensed milk
1/2 cup semisweet mini chocolate chips
1 1/2 pounds chocolate bark candy coating, melted
In a large bowl, cream butter and brown sugar with an electic mixer at medium speed until creamy. Add vanilla and mix. Gradually beat in flour, then add in the milk. Add in the chocolate morsels, mixing well. At this point, I put the dough in the freezer for a few hours because the dough is INCREDIBLY sticky.
Remove the dough from the freezer and shape into 1-inch balls. I coated my hands in flour before doing so and re-coated between cookie dough balls. Place the balls on waxed paper and freeze for at least 2 hours.
Melt the chocolate in a double boiler, or in a glass bowl set over a pot of gently simmering water. Using two forks, dip the cookie balls into the chocolate to cover. Place on waxed paper and chill, at least one hour, to set.
Like I said, these were pretty labor intensive and while I liked trying a new recipe I don't think I would make these again. I also saw another blogger's take on the truffles and she recommened using salted butter, which I think may help cut back on the sweetness.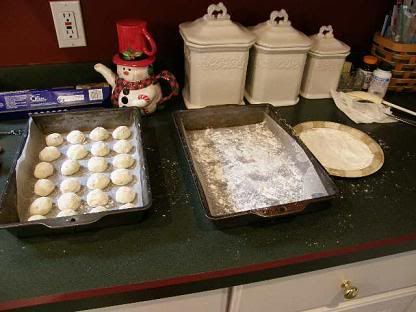 Again, no pictures of the finished product. Mine didn't look that great and I'm sure I was up to my elbows in other baking at the moment. Just imagine those, but dipped in dark chocolate [which I think provided a nice, bitter contrast to the sweet dough] and kind of lumpy.