I have so much blogging to do, it is absolutely ridiculous. Well...I guess it only seems that way. Anyway, about a little over a week ago I read about a cookie contest that was being held by our local library. I got ridiculously excited and knew I had to enter something in the contest. There was one small problem...entries were due the following day by 4:00. I, of course, wouldn't let that get in my way and hurried over to my laptop to find a quick, tasty, yet creative recipe. After searching through pages of bookmarked recipes I finally decided on a cookie I had made this past winter: the hot chocolate cookie. This cookie uses hot cocoa mix in place of cocoa powder, which gives them a distinct taste. I also wanted to find a way to make them less like a Christmas cookie and more like something that could be seem as "summery". Hmmm...chocolate...marshmallow...I know! Add some graham crackers! I crushed up some grahams and added the crumbs on top of the marshmallow and turned these into Hot Chocolate S'mores cookies.
Hot Chocolate S'mores Cookies

adapted from Land O Lakes, found at novice-baker.blogspot.com
1 3/4 cups all-purpose flour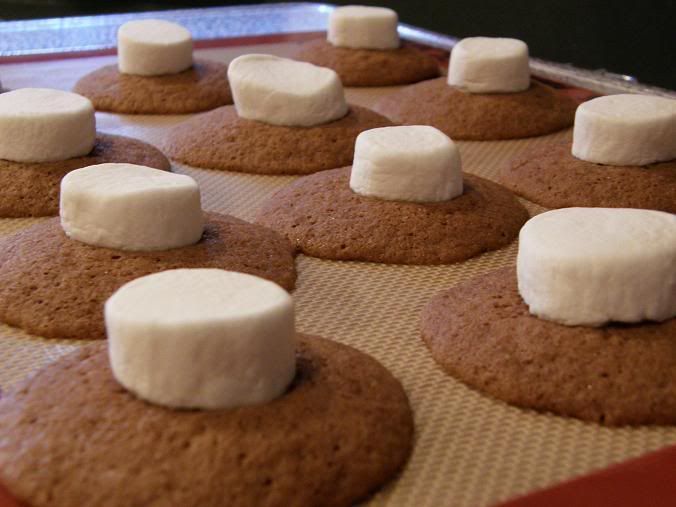 1 cup instant hot chocolate mix [any flavor works, but dark chocolate has been my favorite]
1 teaspoon baking soda
1/2 teaspoon salt
12 tablespoons unsalted butter, softened
1/2 cup granulated sugar
2 large eggs
1/4 cup milk
1 teaspoon vanilla
about 24 marshmallows, cut in half crosswise
about 3 full graham cracker rectangles [I hope that makes sense]

Preheat oven to 350 degrees Fahrenheit.
In a medium bowl, whisk together flour, cocoa mix, baking soda, and salt.
In a large mixing bowl, beat together the butter and sugar until creamy. Add the eggs one at a time and mix until well combined after each. Mix in milk and vanilla. Add the dry ingredients and mix just until combined.
Using a teaspoon or a teaspoon cookie scoop, drop the dough onto parchment lined baking she
ets. Bake until the cookies are set [when touched lightly, and indentation remains and the cookie does not spring back], about 7 or 8 minutes. Remove and carefully place a marshmallow, cut side down, in the center of each cookie. I ended up cutting both ends of the marshmallows and then cutting down the middle, which provided me with a sticky surface for my graham cracker crumbs. If using the cracker crumbs, sprinkle on top of the marshmallow halves after placing them on cookies. Place back in the oven and keep baking until marshmallow begins to look puffy [about 1 to 2 minutes]. Remove from oven and let cookies sit on the cookie sheet for 1 minute before removing to cooling racks.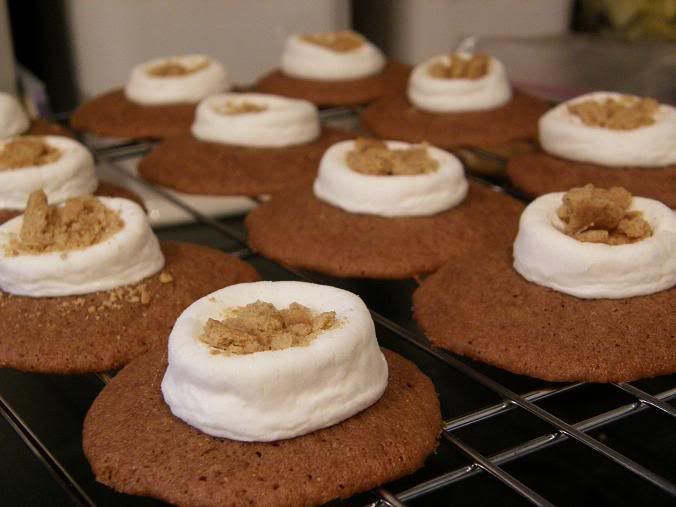 The cookies turned out great. Not quite...s'moresy, but very tasty. They have a very soft, cakey texture and are even better when they're eaten warm. Mmmm, gooey marshmallow. So how did they do at the cookie contest? Everyone got ridiculously excited when I brought them in, some declaring that I should already get first place. Talk about an ego boost, haha. I came back the next morning to check things out. I was a little disappointed...I didn't place in the top three. BUUUUT, I did walk away with a ribbon for the best decorated cookie. I had a lot of fun doing this and it was a fun first baking contest. Plus, all the money raised in the subsequent bake sale went to a foundation to help end childhood hunger.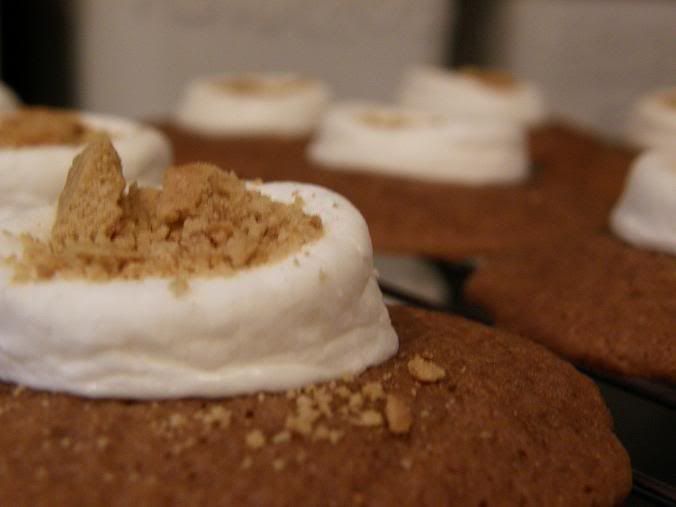 What's up next? My boyfriend's favorite double chocolate brownies!