I have been dying to bake lately. Seriously,

aching

to bake. It's sad and makes me think that I have a problem, but I make myself feel better by telling myself that baking is a passion of mine and it's okay to feel those urges. Right? Right. And now I sound like I'm talking about a million other things that are definitely

not

baking. Anyway, these urges led to me begging my mom to let me bake something. We're all about to go away for a few days to celebrate the Fourth of July, so the parents really didn't want me baking a ton and then having to worry about eating it all, which is not good for our little weight loss plan, or taking them along with us. After much discussion [or a few minutes of me begging and pleading and being generally pathetic] it was agreed that I could bake a half batch of cupcakes. I was elated, which is very sad. Now, a month or so ago I found some cupcake liners with red, white and blue stars on them, along with sprinkles in said colors. This led to my obviously brilliant idea: make red velvet cupcakes for the Fourth! Now...if I could just find a good recipe to use...

Allrecipes.com is fabulous. I used it to find a great scone recipe for Mother's Day and it didn't fail me this time around, either. I picked this recipe, followed the alterations suggested in the first comment, and then made some of my own. I also cut the recipe in half because of previously said circumstances. Boo.
Red Velvet Cupcakes
based on a recipe from allrecipes.com

4 tablespoons unsweetened cocoa powder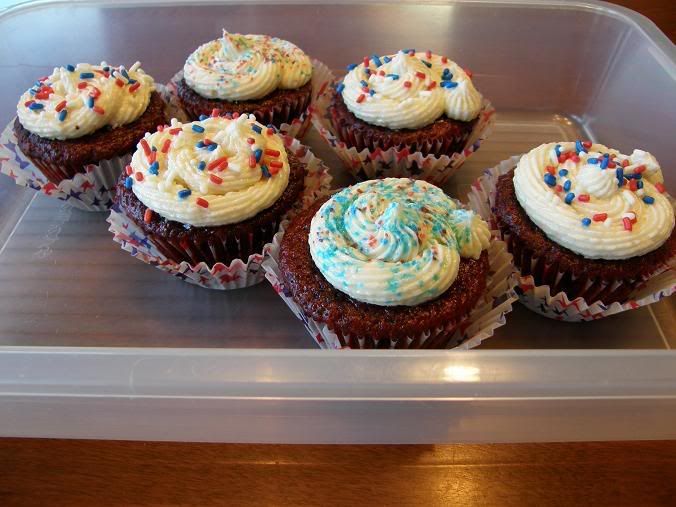 2 ounces red food coloring
1 cup buttermilk
1 teaspoon salt
1 teaspoon vanilla
1/2 cup oil
1/2 cup applesauce
2 cups sugar
2 eggs
2 1/2 cups flour
1 1/2 teaspoons baking soda
1 teaspoon white vinegar

Okay, let's make these suckers. Preheat oven to 325 degrees Fahrenheit and prepare your cupcakes pans. Make a paste of cocoa powder and food coloring, and set aside. I ran into some problems here. I had hardly any liquid red food coloring and had to bust out my Wilton frosting gel. Well...I didn't make much of a paste. More so a clumped up mess of cocoa powder and gel stuff. I figured, oh w
ell, we'll see how this goes later, and moved on. Oh, I also tossed my vanilla in there in hopes of it helping with the "paste". No dice.
Combine buttermilk, salt, and vanilla [or just buttermilk and salt if you already put vanilla somewhere else...]. Set aside. In a large bowl, combine oil, applesauce and sugar and mix until well combined. Beat in eggs one at a time, then stir in cocoa mixture. Mine left some lumps behind but I was able to work some of them out. Then I got frustrated and gave up on that. Beat in buttermilk mixture alternately with flour, mixing

just until incorporated

. Stir together baking soda and vinegar, then gently fold into the cake batter. I guess you don't really need the vinegar since there is buttermilk in the mixture, but I did it anyway.
Pour into pans and bake for 25 minutes or so. Make sure they're done when a toothpick inserted into the center comes out clean bladdy bladdy blah. Allow to cool completely before frosting.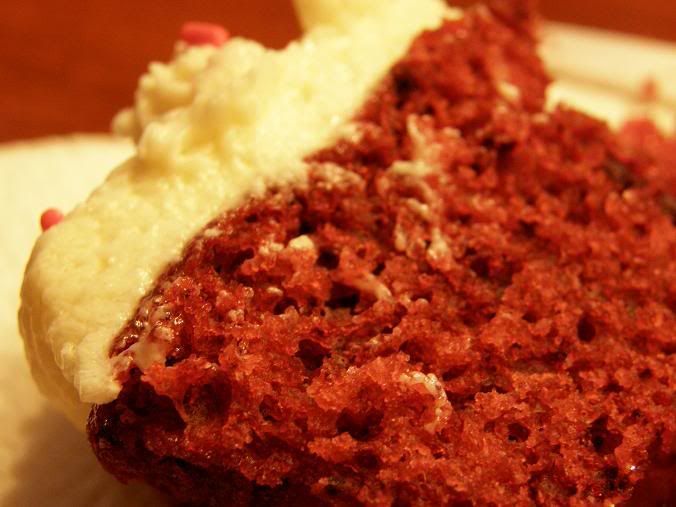 Well, they look okay. I can see a few little lumps in there, but nothing too scary. The texture is okay. I'd prefer something...cakey-er? But it's good! It's really good and I'm just being a complainer. The flavor is pretty mild and delicious. I couldn't pick up much of a cocoa flavor but I don't know if you're actually supposed to considering I've never had red velvet. Sad, I know. Anyway, the

real

star of this post is the frosting. I want to bathe in this frosting. I want to put this frosting on

everything

.

1 cup milk
5 tablespoons flour
1 cup sugar
1 cup butter
1 teaspoon vanilla

In a saucepan, combine the milk and flour. Cook over low heat, stirring

constantly

until mixture thickens. Now, I wasn't sure how thick this meant, but you'll know. It gets really, really thick. Set aside to cool completely. Cream together butter, sugar, and vanilla until light and fluffy, then stir in cooled milk mixture. Beat until icing reaches a nice spreading consistency.

Now, lately I've been thinking about how I need to find the perfect frosting and I had a very specific taste in mind. I must have had it a long time ago, because I can't place where or when I tasted it, but I knew what I was looking for. This frosting is it. It's perfect and I can't really think of how to describe it other than that. It's smooth, silky, and sweet, but not too sweet. I know I failed miserably at that, but you really have to try it for yourself. I'm in love with it.

So how did rest of the family feel? Well, let's see a sort of "before and after" showing how many cupcakes I had last night and how many I had this morning.
Before...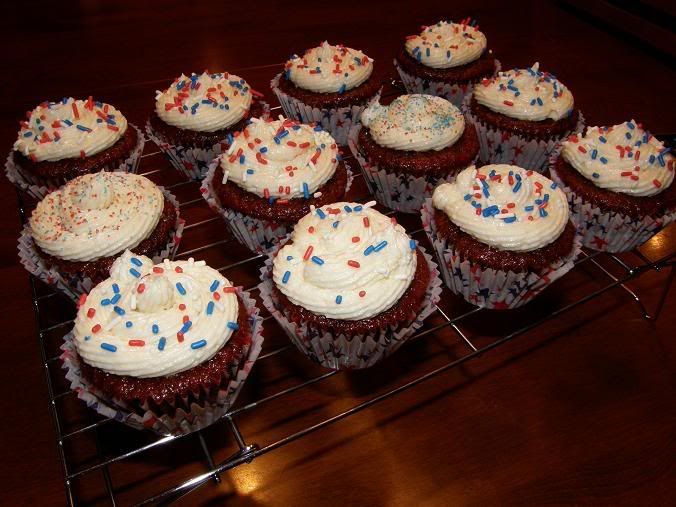 After...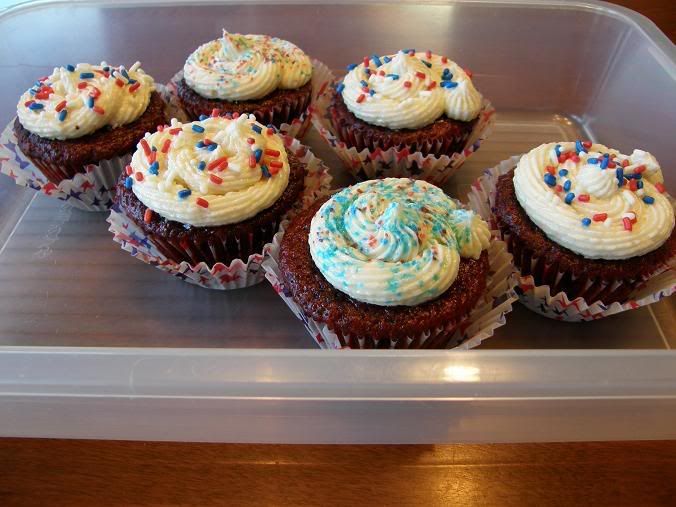 Well I don't think we need to worry about them going bad! Dad at two last night and I'm assuming he took another this morning. Now, it takes a lot to get an enthusiastic reaction out of my dad when it comes to food. These did it. He wouldn't stop raving about how it's the best cake he's ever had and the best frosting because of the consistency and how it wasn't too sweet. My sister ate two last night and her eyes were about bulging out of her head while doing so.

I

almost gave up all self-control and ate two last night. So yeah, I recommend these to anyone and everyone. They will not disappoint, especially the frosting.